Breakfast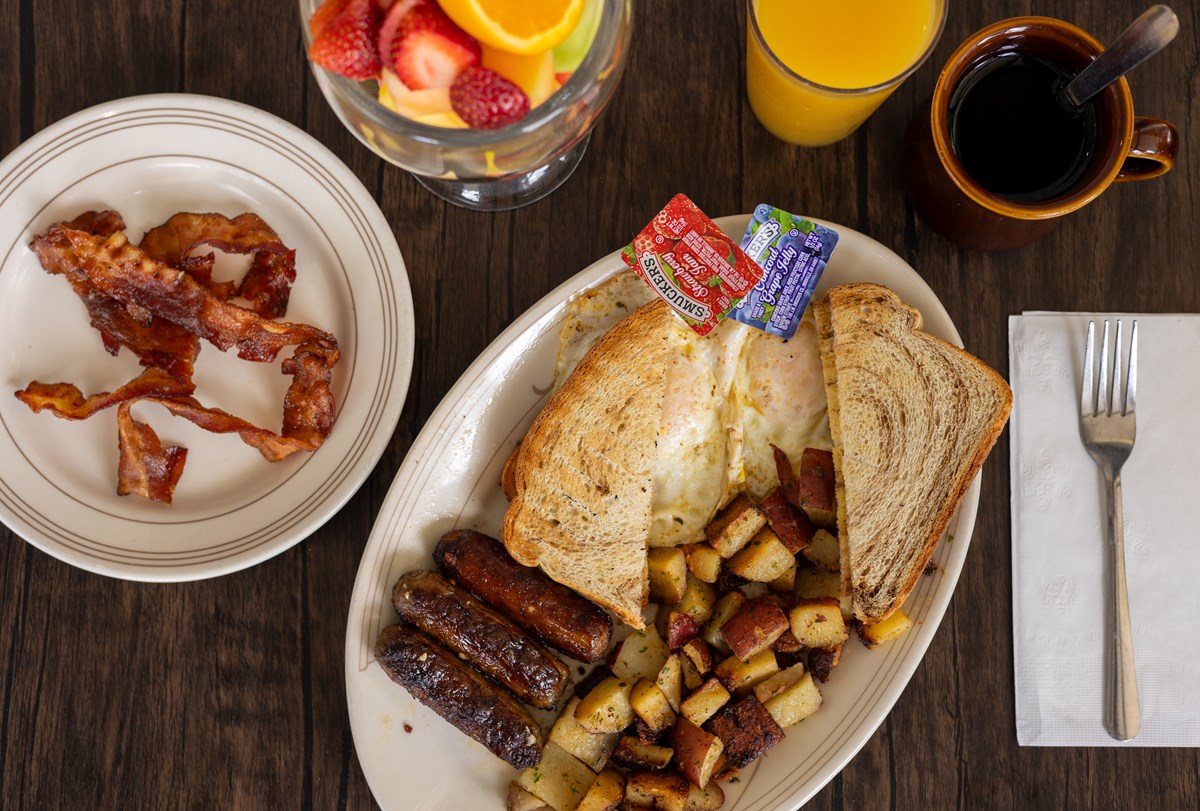 Egg Specials
Served with toast and seasoned home fries, beans or apples.
Two Extra Large Eggs
with a thick sliced ham steak
Two Extra Large Eggs
with four slices of crispy bacon
Two Extra Large Eggs
with four juicy sausage links
Two Extra Large Eggs
with corned beef hash
Two Extra Large Eggs
an pancakes (plain)
Two Extra Large Eggs
and french toast
Steak and Eggs
a 12oz. NY choice sirloin, grilled to perfection served with three extra large eggs.
Large 4 Egg Omelet Specialties
Our Cheesy Omelet
cheese & more cheese
Corned Beef Hash and Cheese
Ham Steak 'n Cheese
diced thick
Veggie Omelet
with fresh vegetables
Meat and Vegetable
stuffed with all of our breakfast meats, fresh vegetables and cheese
Pancakes and French Toast
Stack of Three Pancakes
Delicious Golden Brown
Blueberry Pancakes
Stack of Three
Gooey Chocolate Chip Pancakes
Stack of Three
Golden Brown French Toast
Regular or Texas. Stack of three.
Specialty Breakfast
Create Your Own Omelet
.75 Toppings: Onions, Peppers, Olives, Tomato, Broccoli, Mushrooms, Cheese. 1.25 Toppings: Ham, Bacon, Hash, Chicken, Chorizo, Kielbasa, Sausage, Pepperoni
Strawberry Banana French Toast or Belgium Waffle
with whipped cream
Meat Lovers Omelet
Filled with all our breakfast meats and American cheese, served with home fries and toast
Country Breakfast
Two extra large eggs, hash, baked beans, home fries, and corn bread
Sausage Gravy
Homemade sausage gravy, served over biscuits with two extra large eggs and home fries.
Eggs Benedict
Two halves of an English muffin each topped with a poached egg, Canadian bacon and hollandaise sauce
Breakfast Sandwiches
Egg Sandwich
Price:
with grilled ham
6.59
Price:
with crispy bacon
6.59
Price:
with juicy sausage
6.59
Sides
Fresh Fruit Bowl - 5.49
Scrumptious Home Made Muffins - 3.99
Corned Beef Hash - 5.99
Thick Ham Steak - 5.99
Crispy Bacon (4) - 5.49
Juicy Sausage Links (4) - 5.49
Home Fries - 3.99
Toast - 1.75
Grilled English Muffin - 1.75
Sausage Gravy - 4.69
Grilled Bagel - 2.75
Hollandaise Sauce - 3.29
Golden Brown French Toast (2) - 6.59
Plain Pancake (1) - 3.29
with blueberry or chocolate chip add .50
Kids
Small Stack of Pancakes
Price:
with Chocolate Chips
6.59
Price:
with Blueberries
6.59
Small Stack of French Toast
Two Extra Large Eggs & Toast
Non-Alcoholic Beverages
Fountain Drinks
Hot or Iced Coffee
Specialty Tea
Iced Tea - Sweetened, Unsweetened, Green
Hot Chocolate
Milk - Plain, Chocolate, Coffee
Juice - Orange, Cranberry, Apple, Pineapple, Grapefruit, Tomato

We offer Bloody Mary's and Mimosas too!