Pizza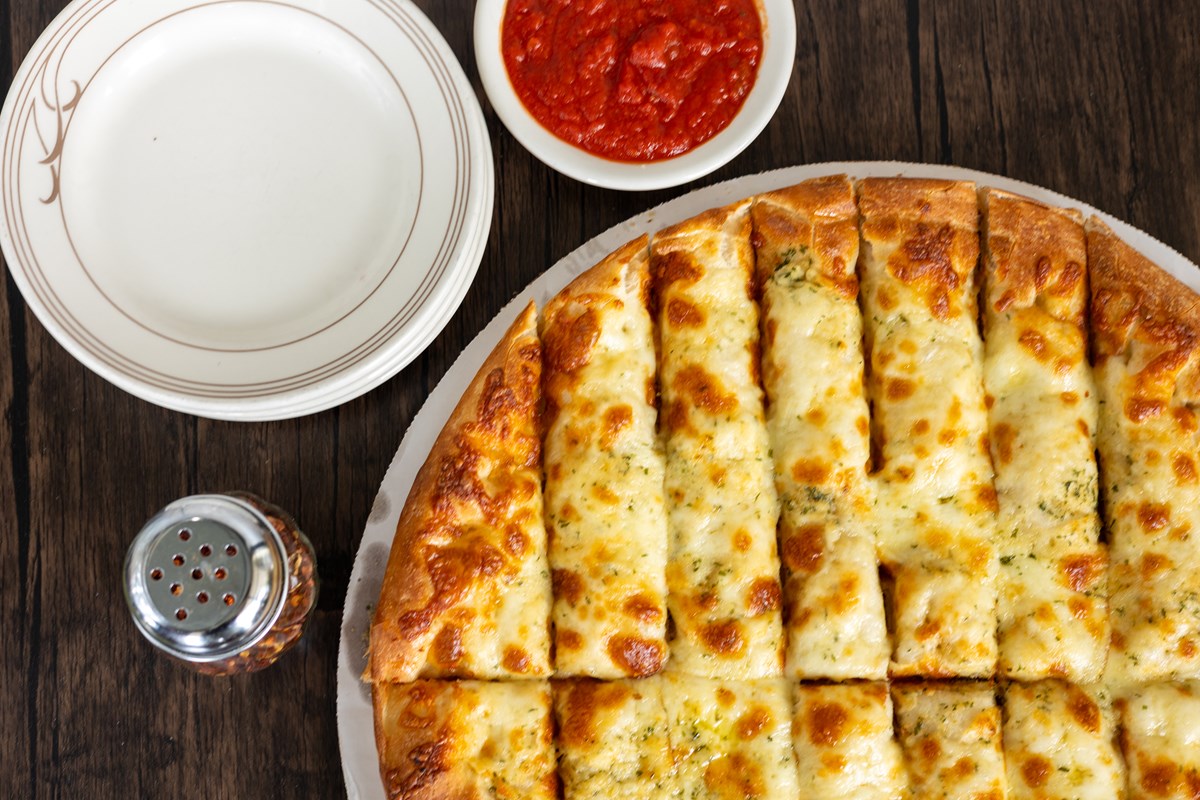 Cheese Pizza
Available toppings: extra cheese, pepperoni, ham, sausage, meatballs, bacon, chicken, chourico, capicola, steak, hamburger, mushrooms, olives, Kalamata olives, pineapple, onions, peppers, hot peppers, eggplant, spinach, tomatoes, broccoli, feta, anchovies
Price:
1 topping
8.99/13.49
Price:
2 toppings
9.99/15.49
Price:
3 toppings
12.49/19.49
Price:
4 toppings
13.49/21.49
Margarita Pizza
fresh mozzarella, vine ripe tomatoes, fresh basil, drizzled with balsamic glaze
Pancho Villa Taco Pizza
fresh ground beef seasoned to perfection, cooked golden brown, topped with lettuce, tomatoes, side of sour cream and salsa
Honolulu Delight
Surfs up! Succulent pineapple and tasty ham pair up for a perfect Hawaiian experience topped with cherries and pizza sauce
Black & Bleu
tender chicken blackened to juicy perfection, bacon bits, and caramelized onions, topped with crumbled bleu cheese
Philly Experience
shaved steak, mushrooms, onions, peppers, cooked on the flat, topped with our 30-year old special steak sauce recipe and pizza sauce, cooked to perfection
The Farmers Market
spinach, mushrooms, vine ripe tomatoes, broccoli, onions, peppers, olives and pizza sauce
Bianca Pizza Pie
ricotta cheese, EVOO, garlic, Romano cheese, fresh basil
Pizza Da Vinci
tender chicken, mushrooms, spinach, garlic, roasted peppers with a garlic Alfredo sauce
Classic White
spinach, tomato, feta, olives, white pizza
Bacon Cheeseburger Pizza
1000 Island sauce base, ground hamburger, bacon, topped with lettuce and tomatoes
BBQ Chicken
tender chicken, BBQ sauce, bacon and red onions
The Rustic
spinach, diced tomatoes, feta, garlic, roasted red pepper and eggplant
OT's House Special
pepperoni, sausage, meatball, ham, mushrooms, onions, olives, peppers, pizza sauce
The Bomb
exploding with flavor, steak, pepperoni, sausage, meatballs, mushrooms and onions
The Corleone Special
a pizza you can't refuse! Capicola, pepperoni, sausage, meatballs, pizza sauce. Forget about it!
Chicken Bacon Ranch
tender chicken, bacon and ranch dressing
Round the Buffalo Pizza
tender seasoned chicken tossed in our house buffalo sauce, served with ranch or bleu cheese on the side
The Big Cheese
ricotta, white cheddar, provolone, yellow cheddar, pizza sauce with mozzarella and cheddar blend
The Parm
breaded chicken or eggplant paired with our famous sauce
Super Mario Meat Lover
all the fresh meats including pepperoni, sausage, ham, meatball and bacon with pizza sauce
Garlic Bread Pizza
our "in house" garlic spread brushed on a double dough, topped with mozzarella and cheddar blend, side of marinara
The Leonidas (300 Sparta)
step into battle. Fresh spinach, tomatoes, olives, feta cheese, hot peppers, mozzarella and cheddar blend
The Acropolis
experience this historic taste of Greece. fresh spinach, vine ripe tomatoes, Kalamata olives, red onions, feta cheese finished with a mozzarella and cheddar blend
Loaded Baked Potato Pizza
sour cream base, bacon, mozzarella and cheddar blend, yellow cheddar